South Africa is a wonderful destination for a fairytale wedding, with many upscale and luxurious areas surrounded by spectacular scenery. While no wedding in South Africa can be described as cheap, it is possible to arrange a special day for between 80,000 Rand and 200,000 Rand which equates, in terms of US Dollars, to $5,000 to $13,000, and this means that South Africa is often seen as a budget wedding destination for couples from America (where an average wedding comes to over $25,000) and other international destinations. It's easy to see, therefore, why the South African wedding industry is now worth billions of Rand, with over 150,000 marriage ceremonies taking place every year. In this article, we look at the potential cost of a wedding in South Africa and the kind of budget that is required for each element of the celebration.
Arranging a Spectacular Venue
Depending on your chosen venue, the cost of arranging a place to hold the ceremony itself can range from around R35,000 and R100,000. There are numerous factors with a role to play in the fee charged by the venue. The day of the week on which you wish the marriage to take place and the time of year are both significant when it comes to pricing, with the winter months being cheaper, primarily because the majority of popular wedding venues are generally in the open air. If you book the venue well in advance, you may well find that it is cheaper than making a reservation at the last minute, and another relevant factor is whether you are paying per guest or a single flat fee for the overall venue.
Paying for the Dress, Makeup and Accessories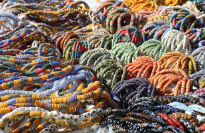 The dress is a key part of the costs of the day and it is also an element that can vary considerably in price depending on whether you opt for something second hand, something off the peg or a bespoke dress. A pre-made wedding dress will generally set you back around R5,000 to R20,000 while a professional dressmaker can make a bespoke gown for you at a cost of around R6,000 to R10,000. If you want to be extravagant, a gown tailored especially for you by a top South African designer could cost as much as R50,000. Accessories will increase the costs even more, with second hand or non-designer jewellery and shoes coming in at around R1,500 and brand new pieces being closer to R8,000. If you want to arrange a beautician to do your makeup and hair on the big day, this could cost another R1,000 to R3,500 on top.
Food, Drink and Decor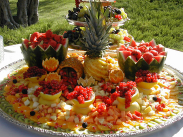 Brides and grooms should expect to spend around 30% of their entire wedding budget on their reception, with waiting staff, beverages and food costing around R30,000 as a minimum. The cake itself, the centrepiece of any wedding breakfast, could be especially costly depending on whether you opt for one made by one of South Africa's best cake designers in which case the total cost could be as high as R6,000 with 50% required up front for a cake that serves up to 100 guests. If a couple is on a low budget, however, they may be able to find a lower priced cake at around R1,200. Couples getting married on a shoestring should also consider foregoing a sit-down event as the majority of South African venues do not provide furniture and the cost of hiring or buying these items can boost the costs to an excessive level of around R100,000. If couples are determined to have a sit-down meal, choosing a venue that provides all of the chairs, tables and décor is a better choice as this could come in as cheaply as R10,000.
Not Forgetting the Extras
Once all the major elements of the day have been budgeted for, it is important not to forget the extras such as a photographer (costing between R9,000 and R23,500), transportation to the venue (for which the couple should set aside 2% of their total budget), gifts for the groomsmen and bridesmaids (another 2% of the budget) and invitations (which could be as much as R80 per invite for premium materials). If the couple want to hire a wedding planner, they should consider setting aside a full 14% of their budget.
With all these costs in mind, it is easy to see that although a wedding in South Africa may be cheaper than in other parts of the world, it is still not going to be a cheap affair. Couples are advised to budget wisely and to consider their options carefully before making any arrangements for their big day.