For couples who are looking for an exotic and unusual venue for their wedding, Africa represents an exciting and original choice, especially with couples who are marrying between September and March, which is spring and summer on the continent. when warm nights, beautiful beaches, amazing wildlife and glorious flowers all come to the fore to make many African wedding venues among the best in the world. If you are considering getting married in Africa, here is our guide to some of the top African wedding venues.
Marry on a Tropical Island
Why get married in the Caribbean when you can enjoy the splendour of a magical African island retreat? Zanzibar Island is a tropical paradise in the Indian Ocean, just off Tanzania's coastline. Its turquoise waters and white sandy beaches make a spectacular location for any marriage ceremony and is also a picture perfect honeymoon destination. Mnemba Island, off the northern coast of Zanzibar, is particularly exclusive and is one of the world's top romantic beach resorts. Alternatively, Mauritius is another stunning tropical island, characterised by its palm trees, coral reefs and blue lagoons. There is a multitude of gorgeous wedding locations here among the lush mountains, fields of sugar cane and white beaches. For an island wedding with a difference, the Island of Mozambique offers impressive historic architecture that forms an amazing backdrop to any ceremony with Indian, Portuguese and Arab influences in its design.
A Wedding With a Spectacular Backdrop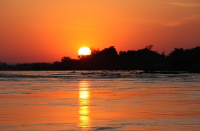 Nothing is quite so impressive as a wedding ceremony in a stunning location, so getting married at Victoria Falls has to be among the top destinations in the world. Located between Zimbabwe and Zambia, this waterfall is one of the 7 Natural Wonders of the World and forms a glorious background to a truly special day. The Victoria Falls Hotel is world famous and is the perfect place to spend a honeymoon break thanks to its many activities including guided game drives, microlight flights and sunset river cruises. For those who would prefer to marry in the heart of the city, Cairo is a fabulous choice with its backdrop of the beautiful River Nile. One of the finest city venues is the Ferme de Plein Air's exotic garden which brings to mind a desert oasis thanks to its Egyptian plants and verdant palm trees.
A Wedding in the Heart of Nature
What could be more romantic than a wedding surrounded by the glory of nature? A ceremony held at the Masai Mara national park is completely unique and is certain to result in an unforgettable occasion. Kenya's top wildlife conservation centre is known all over the world for its savannah plains, breadth of animal life and luxurious lodges, making it a perfect place to hold a memorable wedding day. For something a little more off the beaten track, Botswana's Moremi Wildlife Reserve is another wonderful location for a safari wedding, within easy reach of the world's largest inland delta, vast deserts, savannahs and grasslands where the Big 5 roam freely. For a wedding in a beautiful national park, Madagascar's Montagne d'Ambre park is the ideal choice. Extending across a volcanic massif, this amazing location in the north of the island is in the heart of waterfalls, rainforest and crater lakes – a striking setting for a spectacular day. Alternatively, Namibia's Namib Desert is an unusual yet beautiful place to tie the knot. In a country with 300 days of sunshine per year, couples can enjoy amazing honeymoon adventures such as horse riding, canoeing and river rafting after their memorable sunset ceremony in the Etosha National Park surrounded by the striking savannah and diverse wildlife including rhinos, elephants and cheetahs.
An Authentic African Wedding
For a wedding that is completely out of the ordinary, why not opt for a ceremony at the Eighth Wonder of the World., the Ngorongoro Crater in Tanzania. Here, at the largest inactive volcanic caldera in the world, couples can participate in a traditional Maasai wedding ceremony held on the crater's rim. Couples can enjoy singing from a local choir and authentic dancing by local chiefs in a truly memorable celebration. Can there be any better way to say "I do?"